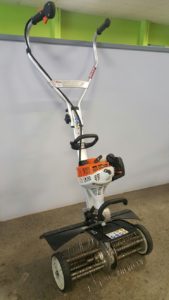 The STIHL MultiEngine comprises a powerful drive unit and a frame which folds up quickly and compactly. The housing of impact-resistant polymer material is robust, lightweight and durable. The controls are conveniently positioned for easy operation, making the STIHL MultiSystem easy to guide and allowing you to work without tiring.
Removes moss and matted growth from the lawn surface. Complete with guard extension and apron.
NOTE: Broken spring tynes will be charged at $2.90 each on return from hire.